Affiliate program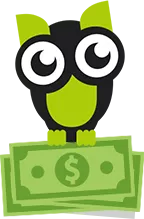 OWLHOSt affiliate program
The affiliate program from OWLHOSt can be an excellent source of solid additional income not only for web studios, webmasters, website owners and IT professionals, but also for everyone who wants to receive passive income by advertising our services.
Terms of the affiliate program
The conditions of our affiliate program are extremely transparent: we pay our partners a reward of 5% of absolutely every payment of the attracted referral. Exactly. You do the work of attracting a client once, and you receive a fixed income from EVERY payment, all the time while the client you attracted uses ANY OWLHOSt services!

Qualitative growth of demand for hosting services for dynamically developing projects makes the conditions of our partnership program doubly beneficial: starting cooperation with renting the minimum shared-hosting tariffs, the client you attracted can grow up to renting one or more physical servers, and bring you significant income for many years!

The minimum amount of affiliate reward for withdrawing from the system is $1. The reward is paid 30 days after the withdrawal order. The hold period of 30 days is due to the possibility of the client to return the paid funds during the first month from the date of ordering the service.
Our affiliate program works very simply:

Become a partner


Get link and banners


Promote your link


Bring new clients


Enjoy partnership


Pay for services or withdraw money


Accumulate the minimum amount


Get 5% from sale
An example of participation in an affiliate program
Let's consider a simple example: you attract a client who, in the first year of operation, rents hosting under the HOST-5 tariff plan for $8.88/month and renews the service monthly. For the first year of operation, such a client will bring you $5.38 in profit.

Not much, but in the second year of operation, the client's needs grow to rent a VPS at the VPS-4 tariff, costing $66.11/month. For this year, the same client, attracted by you earlier, will bring you already $39.67 in profit!

Then the client rents a powerful dedicated server worth $300/month for a year, and you get $180 profit per year, $15 monthly!
How to take part in the affiliate program?
To become a member of our affiliate program, you need to activate your account as an affiliate. This is possible after registration in our billing system.

This is a somewhat simplistic scenario, but nevertheless, think about how much you can benefit from if the number of customers you attracted grows every month, and start earning with the OWLHOSt affiliate program right now!